1880x970 px
Our Story
The Hidden Lair started as a small family business resulting from the love of gaming and a desire to share this interest with other like minded individuals. Since then, we have grown into a new store with a great collection of individuals who come to visit and a community outreach program that has helped shape our community.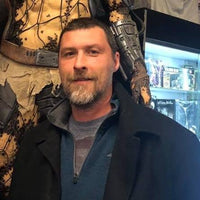 "The Hidden Lair has always been a passion for me. As a child it was this industry and the games within it that gave me belonging. A great deal of my adult friendships were forged at a table with some dice, cards, or miniatures."
Meet The Team
About The Hidden Lair
At the Hidden Lair, we believe that families that game together, stay together. Whether it is a captivating game of DnD, a learning game such as Scrabble, or just a fun board game like Quarriors, we believe that game night is an important activity to keep families involved with one another and a great time to put down the electronics and enjoy one another's company. If there is a game that you would like to purchase but cannot find on our website, let us know! We will do what we can to make it happen!
Our Approach
At The Hidden Lair, we prioritize community and friendship above all. Every month, we host community events for local organizations and promote rising stars among us. By giving back to the great people who helped us start, we believe our store will forever grow.